I'm a bit late with this one, too busy playing Mount And Blade Warband to make this review but alas, the time has finally come to review this awesome… if unpolished game. Mount And Blade Warband is the best WRPG ever made, it's better than Skyrim, Dragon Age, Gothic and pretty much every other WRPG on the face of the earth, I say this loosely because Diablo 1 exists and whilst that is a timeless classic, this game does so much more than Diablo ever did. Put simply, if you want an RPG where you can truly forge your path in an epic medieval world, you've found the right game.
Now Mount And Blade isn't a fantasy game… so it loses a few points for that… oh wait, no it doesn't, there are fantasy mods, heck there are even Sci-Fi mods. Mount And Blade Warband is everything you could ever want in a WRPG… but there's more. Mount And Blade Warband is more than just an RPG, it's a simulation… should you want it to be.
Now sure, pretty much everything about the game centers around war but you can do pretty much anything you want to in this game. Enjoy getting bored trading goods from town to town if that's what you enjoy, heck you can also be a cattle farmer and heard them to the nearest village where you can sell their meat for a profit. Nevertheless, there is obviously more to Mount And Blade Warband than just that. Mount And Blade Warband is all about gathering a huge fucking army and raiding villages, killing armies of bandits, joining one of the many factions as a vassal/mercenary or even saying "Screw you guys, I'm making my own kingdom and if you try to stop me I will fuck you up and throw you in my dungeon bitches!"
Of course war is the centralized feature of Mount And Blade Warband and eventually you're going to be at war no matter what but there are plenty of other things to do on the side too should you want a change of pace. Admittedly though, you will typically find that this can become a tad repetitive over time but to me, war never gets old. That being said, I can easily recommend this game to anyone who enjoys medieval warfare, go get it right now, you are seriously missing out. For the rest of you… keep reading.
Where Mount And Blade excels at is it's intricacy. Ruling a kingdom is no simple task, let alone being a vassal and you are encouraged to do so only late on in the game. On the other hand you could just choose to stick with your chosen faction… if you want to be a hipster, go ahead. Should you choose to become a ruler, you need to pay attention to your right to rule. Not just anyone can rule a kingdom, you have to be a renown adventurer who has proven him/herself worthy of leadership.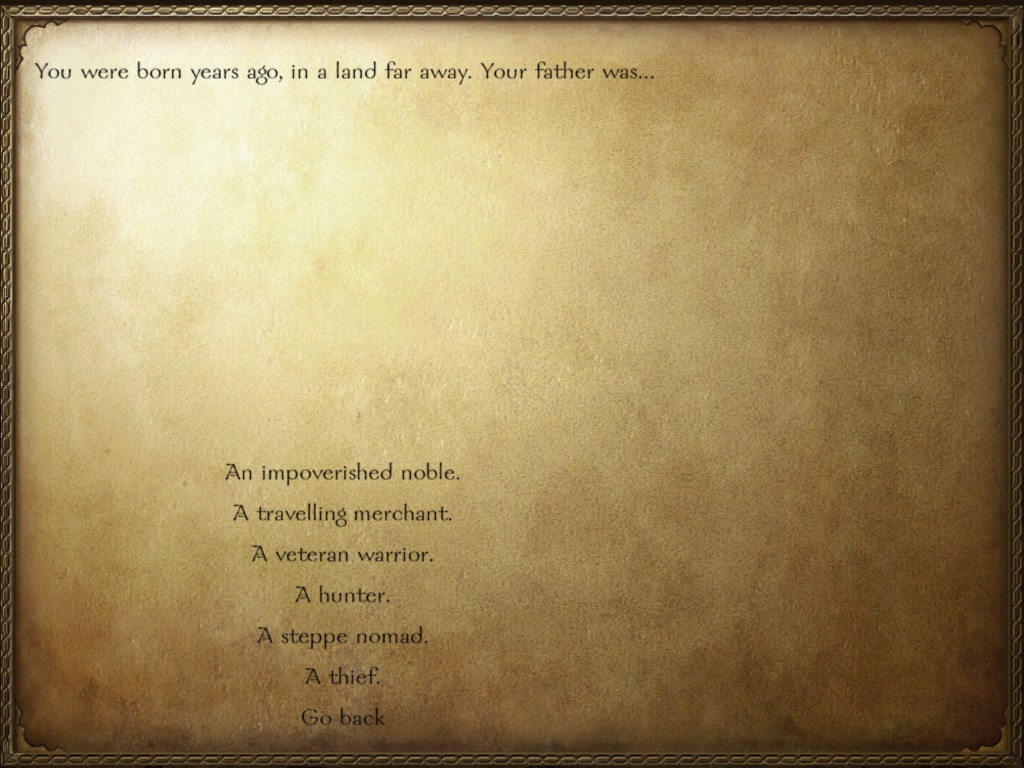 One interesting factor of Mount And Blade Warband is it's character creation. Upon creating your character you select your gender, facials, character background and base stats. These are secretly the game's difficulty rating in disguise. The difficulty of Mount And Blade Warband can be customized to your liking. Personally I turned saves on and fight easy ai with reduced damage but I played as a commoner who grew up as an iron smith. The next minute I'm riding off into the wilderness taking bounties and working my way up the ladder, eventually becoming a vassal of the Nords.
I spent many years fighting with the company of the Nords… however things started to get out of hand when the Rhodocks, the Sarranids and the Kherjits declared war on the Nords simultaneously due to the Nords recklessness, I thought I could do better, so i rebelled against the Nords and set up my new faction, The Brotherhood Of Arms and though it was a difficult ordeal at first, my past experiences had developed me into a strong ruler that managed to conquer many of my former faction's lands.
Now of course I make it sound easy, I was playing on the lowest difficulty which just happens to be the default difficulty. I didn't bother turning it up because I enjoyed the thrill of charging into battle and just wailing my sword around like a mad man. Of course if that's not your scene then you might choose a harder difficulty or even to remove saving completely so you cannot reload the game. Should you choose to do this though you will really have to think about your actions considerably because if you make one wrong move, you'll screw everything. Taking over Calradia may seem like a simple feat on the easy difficulty but if you're playing on the hardest difficulty with no saves it can be nigh impossible. Of course even on the easiest difficulty it's no free ride but I could play more aggressively as a result which suited my play style.
Once you start the game, you will need to enlist new men into your army. You will be able to hire companions along your journey who can level up and develop as you do (well it is an RPG after all). Character management is a huge part of this game as you don't just level up your main character, you need to level up your entire army. Of course, leveling up your units is simple enough, they generally start off as farmers with pitchforks/hatchets but they can grow into powerful warriors, archers and even mounted knights. This is where the character management comes in, as your character develops, they will be given multiple branches which can develop them into a completely new type of unit.
In other words you can develop your army however you want. Of course the customization for regular units is limited and this is where companions come in. Companions are essentially party members who level up conventionally as your main character does. This means they can have skills which you don't making up for your character's weaknesses. Choosing the right companions makes a huge difference, it all depends on your character's build. If you chose to be a strong, powerful dumbass, you might want to hire a medical companion to heal your troops after battle, you may also want to hire an engineer for raiding enemy castles easier.
Of course it's not that simple, you see some companions just don't get along and will leave you if you put them with someone they don't like. This is why it's important to choose your companions wisely. Worse comes to worse, you can send them on other jobs for a while such as spying on enemies and stuff to calm things down. You can also persuade them to stay if your persuasion skill is high enough.
As a ruler, you will need more than just a single army. Most rulers have several armies in their own faction, so taking them on solo won't be efficient, especially if your leadership is low. You need to hire other leaders to help you lay claim to Calradia. Upon starting your own kingdom, you will want to hire lords to fight at your side. However, lords won't fight for you without a cause and you must persuade them to join your cause.
In addition, you will also need to grant them feifs (villages, towns, castles) that you own in order to reward them for their efforts and show your appreciation. That being said, in some cases the tongue is mightier than the sword. Talking your way into people's recognition for you can often yield great results. One time i approached Knudaar, a nordish lord. Our past endeavours together back when i was a vassal of the Nords had made us close friends… in a bit of a tricky situation, we were on opposite sides. Instead of just lopping his head off, which I could have done, i asked him if he would like to join my new order.
After some careful consideration, he chose to join me against the Nords and with it, all the feifs he had acquired through his efforts as a vassal of the Nords, effectively giving me more territory than the Nords as a result. This just happened to be my turning point in the game. Whilst I barely survived the Nords onslaught on my measly kingdom, by bringing one of their men to my side, I had taken nearly half their nation, essentially becoming equal in power to the Nords.
However, as a result, you must bear in mind that the same can happen to you. Vassals come and go and only the most trustworthy vassals should ever lay claim to a town/castle should you want to keep hold of your territory. Trust works both ways though. If you grant feifs to someone else, a vassal will dislike you more. Once you find yourself with a lot of vassals, this can become difficult to manage so you don't always want to have so many vassals, sometimes a small team of trusted comrades can become a juggernaut in itself which can lay siege to countless fortifications at your command. On the other hand, recruiting lots of lords can outnumber enemy lords and you can send them on other tasks whilst you're pounding them in their castle.
It all depends on the lord's personalities and the only way to test them is by experimenting. As dangerous as this can be, you don't need to panic as it's usually pretty easy to tell the greedy lords from the content ones just by seeing which lords get mad when they don't get a feif. At the start, most lords will want feifs for themselves so it becomes really difficult to balance things, later on however these lords tend to nominate other lords who they deem worthy of claiming a feif. This makes things a little easier. At some point you will find a lord that begins to dislike you. At this point you have the option of either keeping him in your army and pray he stays, grant him a feif or indicting him for treason. The latter will make all the other lords dislike you more so it is only used as a last resort. If you only gave them villages, the first two options are the best choices. Whether or not you should give them a feif depends on their worthiness and greed. Do they have a powerful army? If so then you might want to consider giving them more feifs, if not then just leave them to rot.
"Screw you guys, I'm making my own kingdom and if you try to stop me I will fuck you up and throw you in my dungeon bitches!"
There are multiple ways to recruit lords. One way is by recruiting exiles, I generally opt to keep exiles in my court. The problem with this is that your court will get full and you won't be able to get bonus relation gains with current lords when you host feasts. On the plus side, these lords are incredibly patient and leaving them in your court makes other factions considerably weaker. You can also recruit companions, I thought this was a cool idea. Companions are a mixed bag but better than exiles imo.
Instead of begging to join your faction, companions have no intention of holding a feif until offered. Some companions are satisfied with this, others let the power go to their head and get greedy. Oh and companions can betray you as well so be careful. It's also important to recruit noble companions as common companions will make other lords hate you yet should you want to be a king who values equality, you may choose to do so.
There are so many different intricacies to ruling a kingdom and I'm not going to cover all of them but I think you get the picture. Mount And Blade is more than just a simple action game and even the mightiest warrior can lose to politics. Then again a politician with no fighting skill will find their lack of leadership and weakness in battle to cause them great losses in the long run.
Now as i said, there are so many mods for Mount And Blade Warband and whilst native (the vanilla version) takes place in a fictional medieval setting, there are many mods which take place in real life historic settings, fantasy settings and more. If you're into history and want to experience historic warfare, you might be interested in these mods.
Should you choose to stick with native, there is a diplomacy mod which has a lot of other features which improve the intricacy of ruling, personally i stuck with native but I'm not going to rule out any conversion mods in the future.
Gameplay Video:

Now Mount And Blade Warband isn't without its issues. It's not the most polished game out there. There are a few glitches such as the siege tower not moving, clipping and a few other issues here and there. The graphics aren't the best either, visually the game is ok but nothing special. The heart of the visuals comes from watching the epic battles. There can be 100's of enemies on-screen which can also make the framerate drop a little, though you can decrease the battle size should you need to fix that.
One of the biggest issues with Mount And Blade Warband however is memory leak. After a while, the game hits a massive slowdown and there are also graphical glitches everywhere. This often happens when you've had the game on for so long. The best thing to do is to restart the game to recover from this. Aside from that, the game runs fine.
The combat is very simple. You basically press RMB to attack and LMB to block, basically like Skyrim but you can also press E to kick people. If you're not using a shield, you have to time your blocks precisely as your weapon can only block one direction. You can attack in different directions based on how you move the mouse. if you move the mouse forward, you will do an overhead smash, moving the mouse left you will do a cleave to the left, moving the mouse right will cleave to the right and moving the mouse backwards will stab the enemy. Guarding is very much the same in this regard so be careful which direction you're blocking (though in single player, well-timed blocks are automated to block in the direction the attack is coming from). On horseback, combat is slightly different, you will either slash to the side or stab to the front. I never really grasped the controls very well, this is just the gist of it.
Using a lance however is different. The animation is slow and it does 0 damage however if you hit an enemy directly at high speeds with this motherfucker, they will get shafted and likely die instantly. Lances are great for killing mounted units… but not much else. They're only viable for mounted combat though.
Archery is quite difficult but satisfying to pull off, you have to time the shot just right to avoid reticule bloom. At early levels you will suck at it badly. Later on, you will be more accurate. Throwing weapons have less accuracy but deal more damage. Crossbows have a long loading time but don't have reticle bloom (from what I can recall).
The soundtrack can be best described as contagious. I can't help but hum to every tune in battle. The music really gets you pumped up for battle. I personally challenge myself to synchronize my kills to every beat of the music. No other game manages to capture the intensity of battle with it's music as well as Mount And Blade Warband
There is also a multiplayer mode, i haven't played much of it because i get killed all the time. I have no comment on it other than it's totally inaccessible for new players simply due to the huge skill gap. As such i never really enjoyed it personally but others may do. If you have friends and can convince them to play the game, it might be a good idea to try it.
Ultimately, Mount And Blade is an experience like no other, it manages to capture the feeling of medieval warfare perfectly. If you've ever wanted to lead an army into battle, Mount And Blade Warband is the game for you. If you're not into medieval warfare, you might not enjoy it as much as others. Still if you're an RPG fan and find this game cheap on steam buy it!!!
———————————
Story/plot: As good as you make it
Presentation: Mediocre
Gameplay: Great
Music: Great
Lifespan: Infinite (though it can get repetitive)
Would you replay: Yes
—————————————-
Overall: Excellent
—————————————-
This game doesn't need conventional scores, it's the concept itself which makes the game so fun. Mount And Blade is in a league of its own so I highly recommend it if you're into medieval warfare.
Value: £40.00+
Purchase Mount and Blade: Warband (PC DVD)